RBA leaving rates unchanged until 2019 will widen the rate differential between Australia and the US, short AUD/USD? 
RBA has kept its neutral bias, suggesting rates could remain unchanged until mid-2019.
RBA Governor Philip Lowe left rates unchanged for the 26th month in a row at a record low of 1.5%.
Lowe stated that even though economic growth is running 'above trend', unemployment and underemployment are still higher than what RBA is comfortable with. We saw Australia's GDP pick up pace, growing by 3.4% from the start of the year to the end of June, the fastest in close to six years. Unemployment rate, on the other hand, is at 5.3%.
Household debt is the RBA's main concern which stands at a record 190.5% of income. Furthermore, out-of-cycle mortgage hikes by 3 of the 4 major banks in Australia has worsened the mortgage situation.
Trade tensions between the US and China contribute to the downside risks Australia is still facing, with Governor Lowe warning that 'one ongoing uncertainty regarding the global outlook stems from the direction of international trade policy in the United States'.
AUD/USD short remains attractive amid the monetary policy divergence between the two countries.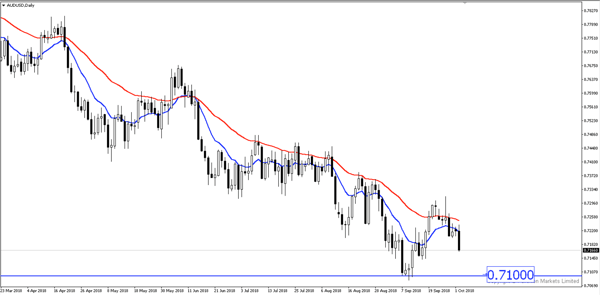 No tags for this post.